NOTE: For 2021 the Grand Depart plans to return. The 800 route has re-opened!! The AZT300 & AZT800 will be the routes in 2021. Social distancing rules apply, please carry a mask for use in public areas.
Registration for the 2021 Fall Grand Depart is OPEN!! Register here: https://form.jotform.com/trackleaders/aztrfall21
Suggested Start Date: Thursday October 28th, 2021. *ITTs are always encouraged!!
(4th Thursday in October each year) *Registration opens one month prior to the Grand Depart
Choose your poison: 300 miles / 800 miles
800 Start: 7:00am Mexican Border monument 103.
300 Start: 7:00am Parker Canyon Lake Trailhead
Rider limit: 74 people, combined, in both events
No entry fee, no prizes, absolutely no support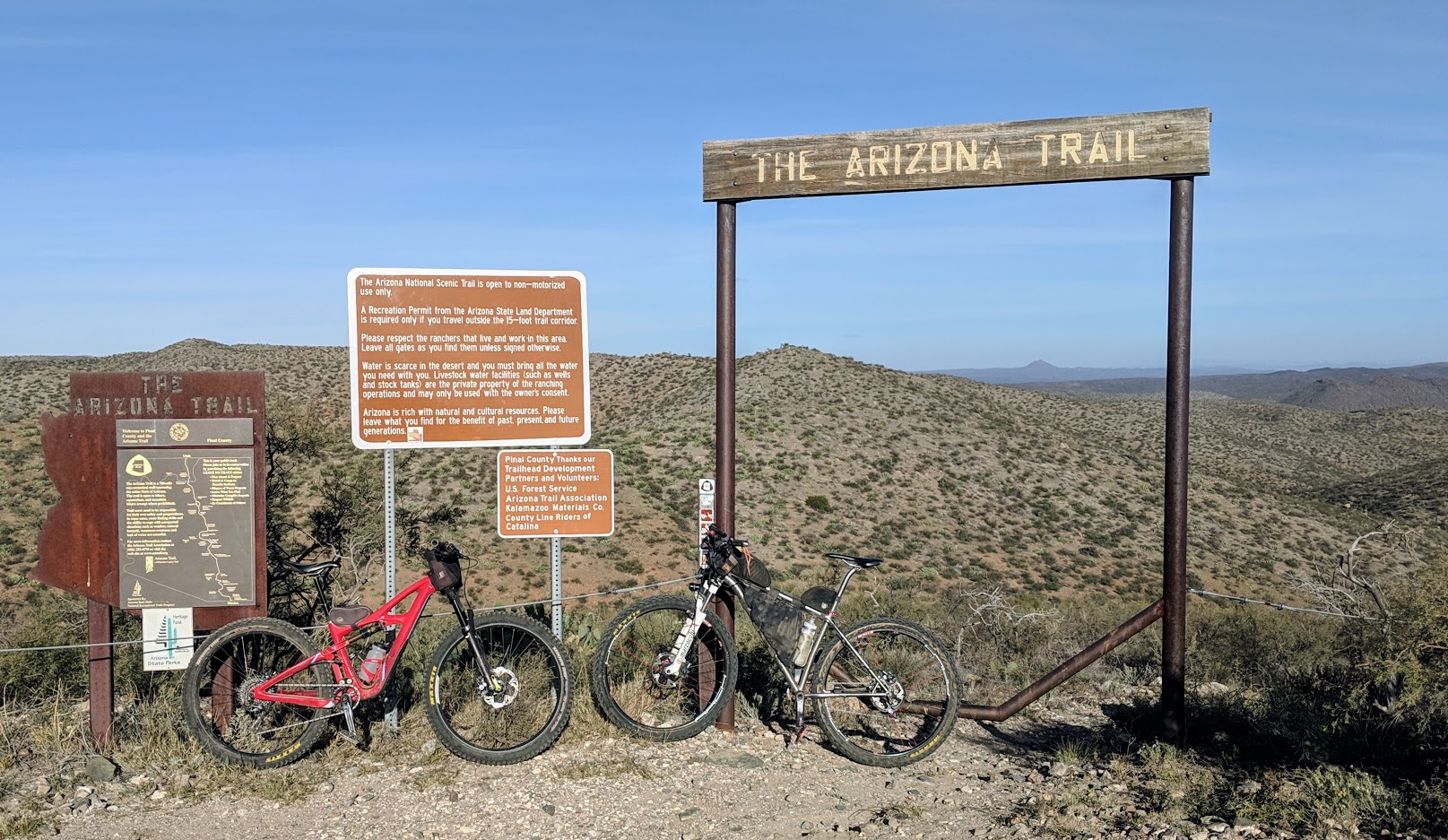 The Arizona Trail Race is an unofficial challenge that takes place every autumn on the cross state Arizona Trail. Two distances are available. The Arizona Trail 300 is a 300 mile event that has been held every April since 2006. The Arizona Trail Race 800 is the complete traversal (Mexico->Utah) and was offered for the first time in 2010 as the AZTR750. Both events are run concurrently, starting on the same day, same time respectively from the Parker Canyon Lake trailhead & border monument 103.
This is not an organized or sanctioned event in any way. It's simply a group of friends out to ride their bikes on the same route at the same time. We'll probably compare times afterwards, but more importantly, we'll compare experiences — the highs and lows the trail and mountains offered us.
All we provide is a route, a suggested start time(*) and tabulation of results. Period. There is no race organization, no checkpoints, no support system, nothing. You are completely on your own, just as you would be if you chose to ride the Arizona Trail, or any other trail, on any other day.
(*) Anyone is welcome to ride the route at any time. We provide a suggested start date if you want others to ride with/against. ITTs (individual time trials) are encouraged and will be ranked with that year's results.
If you want to be included in the "results" you need to follow the rules of self-supported travel set on the rules page. This means things like support crews and water caches are not allowed. This is done in order to ensure a level playing field.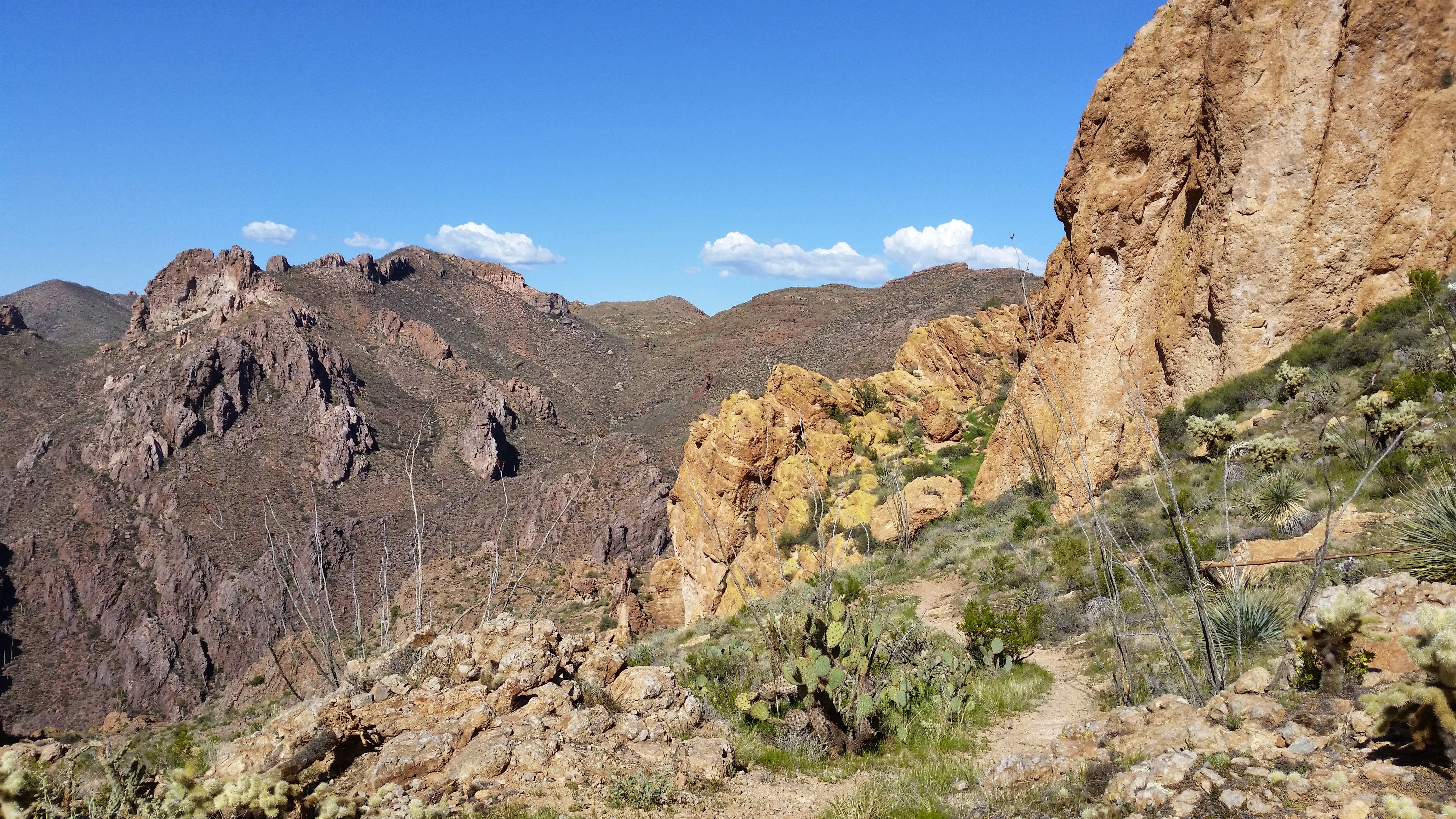 SPOT Tracking
Each year the race is tracked by trackleaders.com, providing a live map, elevation profile and other stats that can be used to follow along. Carrying a SPOT and being tracked by trackleaders is not mandatory but encouraged.
Support the Trail
There is no entry fee, and no registration, but all racers are strongly encouraged to join the Arizona Trail Association. Please help support the organization that has worked so hard to construct, maintain and promote this amazing trail across the state.
Membership is only $35. To join, go here:
http://www.aztrail.org/membership/join.html
Contact
Please consider posting your questions to bikepacking.net's Ultra Forum. There is a yearly forum thread there with common questions asked and answered. There's a helpful community of AZT riders that can help, and that way your questions (and answers) can help others with the same questions. Also the AZTR Director will post updates and last minute info there in the weeks leading up to the start.
John Schilling – azt300.750@gmail.com